Top Spin 4 is available now on PlayStation 3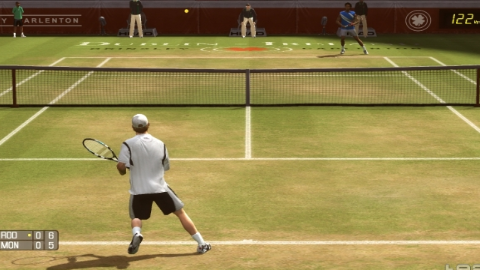 Most authentic tennis experience returns with deepest player roster; new, innovative controls; all-new, visually stunning presentation; unrivalled Career mode; and online tournaments
NEW YORK, Mar 15, 2011 (BUSINESS WIRE) –
2K Sports today announced that  Top Spin 4, the latest edition in the popular  Top Spin tennis simulation franchise, is available now on PlayStation®3 computer entertainment system.  Top Spin 4  redefines the way players experience the game of tennis with new, intuitive controls that make gameplay immediately accessible, while offering a deep and rewarding experience for serious gamers who want to plan their strategy, target opponents' weaknesses and become an unstoppable force on the court.
Developed by 2K Czech,  Top Spin 4 is the most feature-rich title in the history of the franchise. Placing players center court on the baseline of the professional tennis experience,  Top Spin 4 includes:
Largest player roster ever, featuring pros like as Rafael Nadal, Roger Federer, Caroline Wozniacki and Serena Williams, and legends such as Andre Agassi, Pete Sampras and Bjorn Borg;
More than 4,000 new 2K Signature Style animations;
Enhanced Player Creator with all-new Coaching and Development systems;
Incredibly immersive online and offline World Tour Career mode;
Authentic TV broadcast presentation elements;
New online 2K Open* mode, allowing players to compete for a chance to win a fully paid trip to the 2011 US Open;
Playable in stereoscopic 3D on both Xbox 360 and PlayStation®3 system. (Top Spin 4 will play normally on any television set; however, a 3D HD television with compatible 3D glasses will be needed to enjoy the game in three dimensions.**)
"For  Top Spin 4, we set out to deliver  the authentic experience for tennis fans," said Greg Thomas, president of product development for 2K Sports. "We licensed 25 of tennis' top players, both current and legendary; added thousands of animations to capture and portray each pro's unique playing style and attributes; recorded audio from dozens of real tennis crowds; and developed an unparalleled Career mode to guide gamers through every facet of a real pro tennis career."
For more information, please visit  www.2ksports.com/games/topspin4 and follow 2K Sports on Twitter at @2KSports and #TopSpin4.