Spicy Horse's New Alice is Pandora Boxx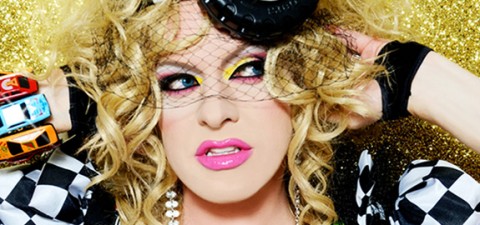 Spicy Horse Games, the creative force behind Akaneiro: Demon Hunters and American McGee's Grimm, announced today that the winner of its Alice costume contest is drag queen, comedian and RuPaul's Drag Race fan favorite Pandora Boxx.
"I'm a huge fan of anything Alice in Wonderland," said Pandora, "And when I first discovered American McGee's Alice, I was enthralled.  I loved his re-imagining of that world.  Then with Alice: Madness Returns I fell more in love with the twisted Wonderland that American has created.  Part of the appeal of being a drag queen is being able to create anything you want for your shows, so I had the Alice costume made by Dallas Coulter Designs and brought her to life on stage.  When I heard of the contest, how could I not enter?  Especially since I had an amazing homage photo shoot by Jose A Guzman Colon to enter with! I am over the moon that I won the contest!  It's a thrill and a great honor to be chosen by American to represent his vision."
"The first time I saw Pandora's picture, I was struck by the mad intensity in her eyes," said American McGee, CEO of Spicy Horse Games. "We asked her (along with a handful of other contestants) to submit a video audition and read some lines I'd written. Her performance brought to mind darkly dramatic scenes from some of the best Disney animated classics. I immediately wrote the team and said 'THIS IS GOLD'. Everyone agreed."
As winner of the World's Best Alice Cosplayer Contest, Ms. Boxx flew to Shanghai to meet the Spicy Horse team and appear in a Kickstarter video for Ozombie this summer.