South Park: The Stick of Truth Review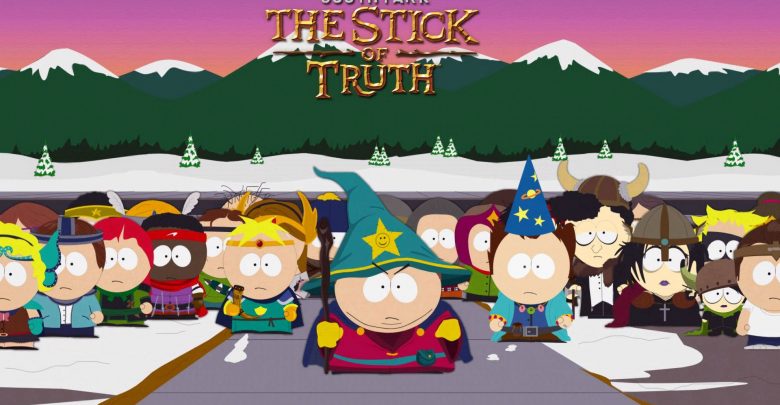 All you need to know about "South Park: The Stick of Truth" is that it is offers a continuation of various themes from the show in addition to providing you with an awesome faux-RPG experience.  It's not as if to say that this isn't a truly honest role-playing title (because it is), only that developers Obsidian Studios and South Park Digital Studios have really pushed the envelope here to bring you a fantastically original game.  As expected, all of the familiar oddball characters and hilariously bizarre moments are packed into this title, along with some surprisingly satisfying gameplay.  The surprising thing about The Stick of Truth however, is that it's much better and more fleshed-out than many might be expecting.
Throughout the 14+ hour campaign you'll explore a lovingly recreated model of South Park itself with a character of your own creation.  You arrive as the "New Kid in Town" and are given the option to join either Cartman or Kyle's faction, both of which are donning their attire from the well-known Lord of the Rings episode (S. 6 ep. #13 – "The Return of the Fellowship of the Ring to the Two Towers").  Of course there are tons of other zany elements present as well; quite simply, the game plays out like a highly interactive series of interconnected South Park episodes or movies.
Visuals
Straight away, the first thing you'll notice about SP: The Stick of Truth is that it is looks more or less identical (visually speaking) to the show.   Since Obsidian Ent. (the group behind such titles as Fallout New Vegas) have paired up directly with South Park Digital Studios, we're being treated to a very authentic experience in terms of the show's art style and direction.  At the same time, the game magnificently melds together familiar RPG mechanics with its blatantly over-the-top sense of humor.  What you're left with is a title that graphically captures the essence of the South Park experience and distills it into a potent video game form which can be easily digested.
Gameplay
The mark of any worthwhile RPG is the depth and "satisfaction factor" of its gameplay.  Needless to say, The Stick of Truth manages to provide a deep level of intricacy within the context of its madcap absurdity.  For instance, when choosing a class for your character you are given the following options – Fighter, Mage, Thief and Jew.  Obviously, this setup follows the established RPG order, only deviating to allow the show's practitioners to interject some risqué' humor.  In terms of combat, it's one highly entertaining turn-based encounter after another, with some quick time events scattered throughout for good measure.  Furthermore, since you can effectively explore the entire town, the game is all the more satisfying, especially if you're one of the many die-hard SP fans out there who simply can't get enough.
Verdict
Yes, it's somewhat unsophisticated in its appeal, but don't be fooled, South Park: The Stick of Truth is a rare gem among games based on movies or TV shows.  Naturally, anyone with at least a passing interest in South Park will find the title to be incredibly satisfying and addictive, but dedicated role-playing gamers should also take note.  Simply put, you should definitely play this game if you get the chance.
Rating – 8.7