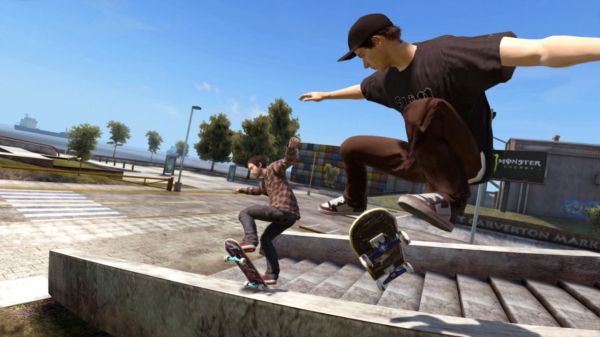 Although Tony Hawk's skateboarding series might be the better known opportunity to perform a vast array of impressing manoeuvres and inspiring tricks on your board, the Skate series has arguably always offered a more immersive and true to life experience. Attractive graphics, intuitive controls and even the ability to create your own skate park all help to make Skate a great game, but is Skate 3, released only one year after its predecessor, worth forking out even more money for?
Skate 3 should be considered as more of a refinement of the series than a new game in its own right. There is certainly no reinvention of the wheel, and even the new functionality that is to be found isn't drastic enough to make the experience much different from Skate 2. Don't dismiss the title too quickly though, because although the refinements may be subtle, and the graphics may look distinctly familiar, this new title from developer Black Box is certainly an all round better game. You might not be first in line to pick up your copy if you bought the previous title less than a year ago, but for newcomers to the series Black Box have really upped their game to create a challenging and engaging experience.
Entering the career mode will give you the opportunity to improve your street cred', gradually enticing more skaters to join your team and increasing your notoriety to allow you to sell more boards. Selling boards is the name of the game, as your mission is essentially to create a new skateboard brand from scratch. Photo shoots, races, street competitions and more will all vie for your attention, providing plenty of action and enough to do that you won't get bored. Allowing both AI and human players to join your team adds some variety, but most of the time you will simply be performing the same moves, but with more people around.
In the case of AI teammates though, you might find more frustration than success, with artificial intelligence that sometimes functions excellently, and other times is simply stupid. Don't be surprised if you find your team score dragged down by the poor performance of your allies, or if you see rival skaters fascinated with the wall after falling from their boards. Other skaters will also ignore you, skating straight ahead of where you wish to be; sure to be annoying as you attempt to pull off an expert move.
The new difficult modes to be found within Skate 3 do help to make the game more accessible to all. On an Easy setting, a player won't be penalised for miscalculating the timing of a trick. Knock the difficulty up to Advanced though, and precision moves will be essential.
AI flaws aside then, Skate 3 promises to be an exciting and exhilarating experience to any skateboarding fans, providing an adequate challenge, vastly improved skate park building experience and the ability to play with friends in a co-op mode. Although owners of the previous title in the series might not be too inclined to part with their hard earned cash for a game that offers little new functionality, newcomers will certainly find many hours of enjoyment within the skate park walls.