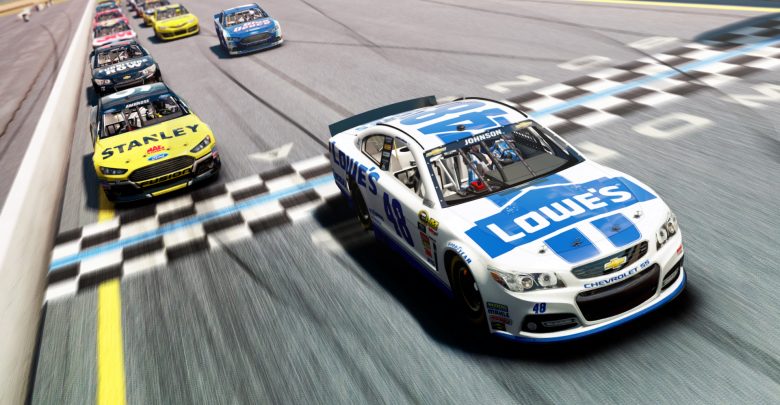 Clearly, the Nascar (video game) series has went through some big changes and development over the years, entailing various creators, publishers and even spin-offs like "Nascar Kart Racing".  With Nascar 14 however, we find the franchise turning back toward its roots a bit, providing the same kind of solid and realistic-minded design concepts that keep the hardcore fans coming back for more.
Whether or not you're going to want to actually spend the extra money on this edition is of course, largely dependent on whether or not you want/need Nascar 14's new features.  For example, there's been some internal tweaking with regard to the A.I. as well as gameplay, many feeling that it offers a clear improvement over previous iterations.  Of course most will be jazzed about the online leagues, which provides lots of additional customization features when you want to actually create your own season.
Speaking of career-related modes, Nascar 14 also ups the ante by allowing you to actually add special decals, paint and various other things in order to truly individualize your vehicle.  As if that weren't enough, there's even a more in-depth segment that's been added which allows you to hire staff, etc.  That's right; they've actually added bona-fide team management aspects to the game, which is something that the more detail-oriented Nascar addicts will undoubtedly appreciate.  Of particular significance are the highlights, which function like mini-episodes from important points in the season, each one places you in a unique situation with a specific objective.  Needless to say, the "excitement factor" is really ramped up here, with the game taking on a somewhat televised feel during these "highlights".
Naturally, the topic of graphics is bound to come up sooner or later, and given that this is a 7th generation only (PS3 / Xbox 360, as well as PC) offering, some might be inclined to think that it's sub par.  The truth is, Nascar 14 looks pretty good in terms of its visuals, nothing too groundbreaking or fancy, but it most certainly gets the job done with ample room to spare, so to speak.  Does it compare with many of the emerging top-notch modern racers we see on the PS4?  Sort of – its graphics aside, the title really shines in the gameplay department.  Overall each car handles quite well, feels balanced and obviously there are loads of options too.  Nascar 14 also does an excellent job when it comes to setting the overall difficulty of the game.  Newbies will find the game inviting, the challenges being within their grasp, while the veterans can still ramp up the intricacy in order to attain a more realistic level of play.
In short, Nascar 14 is yet another fine addition to the series, their library ever-expanding.  While it would have been nice to see this particular outing on the next-gen consoles, perhaps even touting a brand new engine, this offering is still very strong and absolutely jam-packed with enough content to keep you busy for quite some time.   Nascar fans will definitely want to pick this one up…
Rating – 7.8