GRiD 2: Store lock-ins promised for some GAME outlets if you want to get up close and personal with the game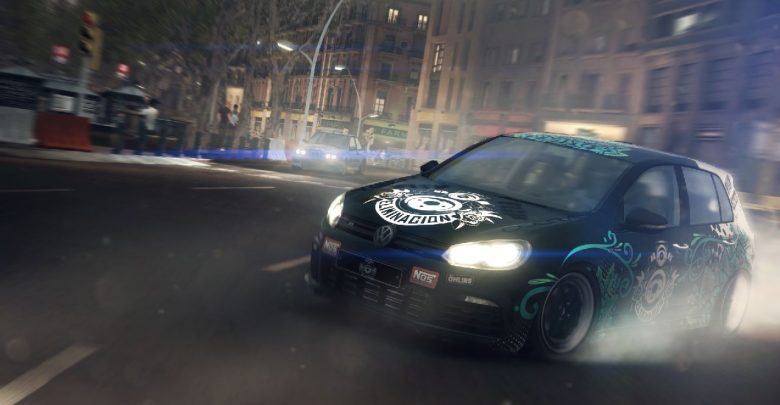 15th April 2013
Leading videogames retailer GAME is partnering with Codemasters to host an amazing GRID 2 experience more than a month before the game launches on May 31st. Gamers will be treated to a first look at the eagerly-awaited racer and the opportunity to experience GRID 2 in replica racing seats for players to become totally immersed in the race.
Codemasters will also be offering all attendees the opportunity to win prizes, too – there will be spot prizes at each event for the fastest lap time of the night as gamers are invited to be fast, be first and be famous in GRID 2.
Seven stores in seven cities over seven consecutive nights will take part in the GRID 2 Tour – and each night will bring much more than just the game. A member of the GRID 2 development team will be at each event, ready to offer their expert advice and to answer any questions gamers may have. And as if the opportunity to experience the thrill of the race with GRID 2's incredible TrueFeel™ Handling system wasn't enough, Codemasters will also be providing attendees with food and refreshments to keep drivers fully fuelled.
Gamers can register for the lock-ins at their nearest participating store or send them a tweet to book their place in the action. Spaces are limited and entrants will be chosen on a first-come, first-served basis.
GRID 2, the long-awaited sequel to the BAFTA-winning and critically acclaimed Race Driver GRID, races onto Xbox 360, PlayStation 3 and PC on May 31st. Drawing on expertise from professional motorsports drivers and Codemasters' 15 year heritage in creating award-winning racing games, TrueFeel™ handling lets players feel what it's like to drive some of the most exciting cars in existence. GRID 2's stunning visuals, hellacious car damage and computer AI are brought to life by the Ego Game Technology Platform. You'll see the cars surroundings reflected in the cars windows and body work as you fly through cities and countryside, smoke whipped into the slipstream of cars and of course, the carnage as you grind metal and get caught in bone-jarring crashes.
GAME is also offering customers an exclusive Special Edition of GRID 2, available at no other retailer. Featuring two brand new routes to race at the Brands Hatch GP and Racing Circuit and two new race cars, the McLaren MP4-12C GT3 and Mercedes-Benz SLR McLaren 722 GT, as well as online events, RaceNet rewards and discounts in the car upgrades store – this is the definitive version of the upcoming blockbuster, available on both Xbox 360 and PlayStation 3. www.game.co.uk/grid2

Dave Howard, Stores Director at GAME said: "We are really excited about the GRID 2 launch – the original Race Driver GRID proved very popular with gamers and racers, and our exclusive content will give them a gaming experience they can't get anywhere else. We are delighted to be partnering with Codemasters and Namco Bandai to bring the most immersive lock-in series ever to our community, and we want to make sure as many UK gamers as possible can take part in these exciting events."
The GRID 2 Nights lock-ins will take place at 7 stores around the country, during April. Dates and locations can be found below:
Monday 22nd April (8-10pm)
GAME Middlesbrough, 71-73 Linthorpe Road, Middlesbrough, Teeside, TS1 5BU
@GAMEboro  –  01642 252970
Tuesday 23rd April (8-10pm)
GAME Hull, 59-60 Prospect Centre, Hull, HU2 8PW
@GAMEHullSuper  –  01482 327212
Wednesday 24th April (8-10pm)
GAME Nottingham, Unit 308A, Victoria Centre, Nottingham, Nottinghamshire, NG1 3QN
@GAMENottingham  –  0115 941 1819
Thursday 25th April (8-10pm)
GAME Bristol, Unit LR53, Cribbs Causeway, Bristol, Avon, BS34 5GG
@GAMECribbs  –  0117 950 9292
Friday 26th April (8-10pm)
GAME Brighton, Unit 94, Churchill Square, Brighton, East Sussex, BN1 2TF
@GAMEBrighton  –  01273 727374
Saturday 27th April (8-10pm)
GAME Crawley, 10-12 The Martletts, Crawley, West Sussex
@GAMECrawley  –  01293 530 008
Sunday 28th April (6:30pm-8:30pm)
GAME Lewisham, 212 Lewisham High St, Lewisham, SE13 6JP
@GAMELewisham  –  0208 318 6518