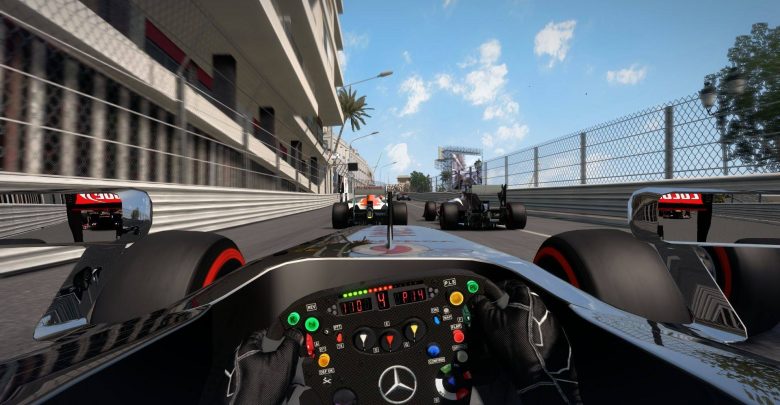 Following in the footsteps (or in this case, tire marks) of the many franchises which are apt to bring us games on an annual basis, "F1 2013" is certainly a move in the right direction.  Development studio Codemasters Birmingham has been handling the series since 2009 (when they took up the reigns after Sony's contract ran out) and things seem to be going rather well.
F1 2013 is a great, substantially solid racing simulator that gives a nod to the 2013 Formula One racing season.  For instance, all 22 drivers, 11 teams and 19 circuits from the 2013 season are featured, and there's even a classic mode which brings in "historical" content from the 1980's and 1990's.   All in all, we're talking about a game here that both the newbie (to the sport) as well as the veteran can get excited about – the best of both worlds, if you will.
The game itself is essentially a continuation of the sort of model which Codemasters created with their previous effort (F1 2012).  Of course now, everything looks even better and there have even been some slight modifications where handling is concerned – nothing too drastic mind you, just some welcome alterations which improve upon what was already working quite well.
Visuals
Perhaps the most noteworthy aspect of F1 2013 is its awesome graphics, which are at the very least a step up from the last outing and on the higher end, very impressive.  Sure, with a slew of new racing titles headed our way via one of the two new-generation consoles (PS4 & Xbox ONE) the "wow factor" scale is certain to shift, but as for right now, this is a great-looking game.  The car models are spectacular as are the tracks themselves, particular attention having apparently been paid to rain-based weather effects this time around.
Gameplay
True racing aficionados are probably going to be most excited about getting to take some of their favorite vehicles to the track.  We're not just talking about generic models here though; you can actually use Gerhard Berger's 1988 Ferrari, for example.  Moreover, each and every car has its own unique handling characteristics, which makes for hours upon hours of enjoyment as you experiment with various models.  Most people are probably going to immediately spring for the career mode, which remains fairly standardized, but there's also a great scenario mode, which in essence, acts like a challenge mode.  But that's not all, there's also the wonderful classic mode, which contains its own various sub-modes to dive into. Those who consider themselves to be big fans of the game series should be happy to note that the handling is better than ever as well, which greatly improves the overall appeal of this title to say the least.
Verdict
In short, F1 2013 is a very noteworthy racing title, particularly for the PS3 (as it enters its dusking phase).  Nevertheless, devoted PS3 owners should definitely consider checking this game out, especially if they have more than a passing interest in racing titles.
Rating – 8.1 / 10