EA Sports Announces FIFA 14 Ultimate Team will Carryover From Current Generation to Next Generation Consoles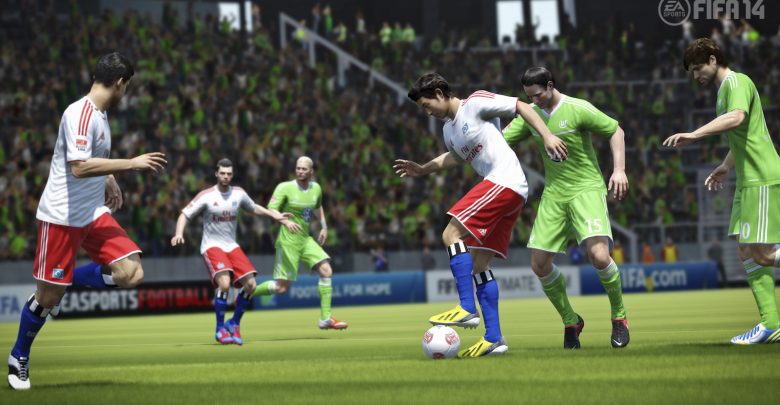 Fans Can Start On Current Console, Then Bring Experience To Next Generation Console
GUILDFORD, Surrey – July 23, 2013
– Electronic Arts Inc. (NASDAQ: EA) today announced that EA SPORTS™
FIFA 14
is allowing fans to bring their
FIFA 14 Ultimate Team
experiences with them to the new generation of consoles this year. Fans will be able to access* their
FIFA 14 Ultimate Team
full roster, in-game items and in-game currency (coins) from either console: between Xbox 360® and Xbox One, and between PlayStation®3 and PlayStation®4. All changes made in
FIFA 14 Ultimate Team
will be reflected in both consoles so fans will be able to compete with their squads on either console throughout the season.In addition, fans who begin their
FIFA 14 Ultimate Team
experience on the Xbox 360 or PlayStation 3 will maintain their current division in Seasons mode on the new consoles. After the new consoles launch, fans who complete their current division matches and their current tournaments on one console, will earn status that will be recognized on both consoles: between Xbox 360 and Xbox One, and between PlayStation 3 and PlayStation 4. Fans also have a one-time choice to transfer their FIFA Points between Xbox 360 and Xbox One, and between PlayStation 3 and PlayStation 4.
Within each of the respective platforms (Xbox and PlayStation), FIFA 14 Ultimate Team will share a common auction market so that fans can enjoy a richer and deeper experience with the millions of other players in the Ultimate Team world from the moment the new consoles launch.
"Our fans invest an enormous amount of time and energy into FIFA Ultimate Team as they craft their own unique squads, and recognizing that investment is absolutely essential," said Matt Bilbey, Senior Vice-President and Group GM, EA SPORTS. "We will ensure that no time will be wasted and fans will get full value for the investment they make from the start of the season on Xbox 360 and PlayStation 3 to their move to their new console."
FIFA Ultimate Team is the most popular game mode within EA SPORTS FIFA—with over 3.4 million games played daily—where fans create unique squads to play their preferred style of football. This year ultimate squad customization is possible with the addition of all-new Chemistry Styles that will make every player and every team unique. Each Chemistry Style has a unique effect on the way a player performs by enhancing specific attributes during a match. Players start with Basic Chemistry Styles but these can be changed by applying Chemistry Style training items to the player.  These items will be randomly available in any pack that can contain a gold rare item; they can be earned in-game, acquired on the Transfer Market and randomly attained in packs that are purchased.  There are a variety of different Chemistry Styles that can be applied to goalkeepers, defenders, midfielders and forwards. After crafting their squads, fans will be able to test their talents in the popular Seasons mode, now expanded to 10 divisions, online single games and tournaments. Plus, new streamlined search filters will help target coveted players in the Transfer Market as fans re-shape their teams based on the real-world performances of their favorite players. Additional features in FIFA 14 Ultimate Team will be revealed in the weeks ahead.
Experience the emotion of scoring great goals in FIFA 14**. Innovations to the award-winning gameplay make the game more authentic and more fun. Dictate the tempo of a match, create chances through midfield, and then unleash the perfect strike.  A new feature called Pure Shot and a brand-new ball physics system will transform shooting, making every shot attempt feel real, and when players connect with the perfect strike, feel exhilarating.