Casino Games for PlayStation 3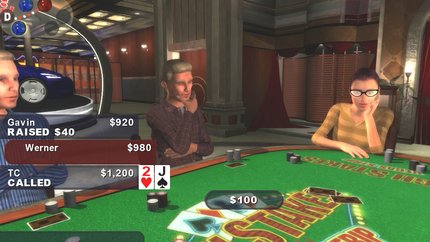 PlayStation 3 casino games offer high quality graphics and sounds with a number of new games to choose from. Until not long ago, casino games for PlayStation were few and far between. That has all changed now with The Casino, released by Digital Leisure for the PlayStation Home Network.
The Casino takes you into the world of Las Vegas casinos, allowing you to enjoy some of your favorite casino games, as well as the luxury of the hotel and its rooms. From lower-end rooms to luxury VIP penthouse apartments, The Casino offers everything you can imagine in a land-based casino.
You can play some of your favorite Vegas casino games including blackjack, Texas hold'em, casino war, keno, big six wheel and a number of different slots games. When you enter the casino you will be given a complimentary hotel room plus 100 free chips which can be used to play any of the games, except for Texas hold'em which has a 500 chip limit.
There are plenty of opportunities to win at The Casino and prizes include a range of options such as VIP hotel rooms, clothing or merchandise for your avatar. If you are new to casino gaming, you can check the help section for each game as this will offer basic rules for how to play.
Prior to the release of The Casino, casino games for PlayStation 3 included High Steaks on the Vegas Strip: Poker Edition, mahjong, World Series of Poker 2008: Battle for the Bracelets and pachinko.
Whether you play casino games online or on your PlayStation, you are able to play from the comfort of your own home. They both offer you a taste of Las Vegas casino gambling without requiring you to go to an actual casino for the experience. They both offer fantastic graphics and sounds. We can also play casino games for fun via our web browser or smart phone, which means you will have access to a much larger suite of games with well over a hundred different titles to choose from, compared to the handful of casino games available for PlayStation. You will also have access to exciting bonuses and promotions, which are not available on PlayStation games.