Gioteck's Top 5 Essential PS3 Gaming Peripherals This Christmas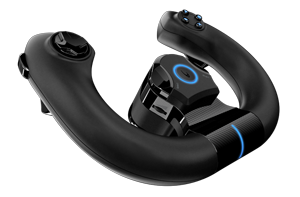 With Christmas right around the corner, it's time to stock up on peripherals and prepare for a Christmas packed with exciting releases set to take your gaming to the next level. Whether you're a FPS fanatic or an RPG hero, the astounding combination of imminent releases will no doubt make this Christmas holiday one to remember.
Here's a rundown of Gioteck's latest gadgets, designed with your budget in mind to transform your gaming for a more immersive experience:
1. FR-1 PS3 Steering Wheel
This thing of beauty takes your racing experiences to the next level. With a combination of enticing features, at just £39.99 this steering wheel is a must have for any gamer, both casual and serious. Built in rumble feedback combined with precision nudge features and a sensitivity switch gives you the most enjoyable and personalised driving simulation game possible.
2. EX-05 Gaming Headset
A perfect cross-platform headset, the EX-05 offers functionality as well as a sleek design and budget-friendly price tag. Available both wired and wireless and with 40mm high quality sound drivers, this headset is both stylish and comfortable.
3. DF-1 Ammo Box Controller Charger
There is no frustration quite like your controller dying mid-battle whilst enjoying your largest kill count, or perhaps losing an online race in the last corner as your controller fails you. This no longer has to be the case, with either a USB or mains powered controller charger in the form of the DF-1 Ammo Box for both Xbox and PS3 controllers.
4. VX-1 PS3 Controller
Again available both wired and wireless, the VX-1 is every PlayStation gamers dream. The rubberised handles and ergonomic design make it comfortable and easy to hold, and with vibration feedback and perfectly formed contoured action buttons for optimum comfort and minimal slip.
5. RT-2 PS3 Real Triggers
Sometimes every gamer just has to go back to basics to improve their performance. Especially crucial to first person shooters, these Real Triggers offer extra grip and a slip resistant surface for the longest of gaming marathons. Suitable for both serious and casual gamers, these controller enhancements will no doubt give you the edge during battle or through the race.
Whether you're looking for basic controller enhancement or a PS3 steering wheel to take your gaming to the next level, Gioteck have everything you need to create the most immersive gameplay possible to enjoy over the winter months.